New York City is home to some of the best open mic nights, bars, clubs, and other performance venues in the world. Here are only some of the venues that the city has to offer.
Founded in 1987, and initially located in the Lower East Side of Manhattan before moving to Brooklyn, Knitting Factory was primarily known for its venues and concerts. One of its alumni performers is none other than Lady Gaga, who performed at the Factory in the nascent stages of her career. Since moving to Brooklyn, however, Knitting Factory has expanded throughout the country and has become Knitting Factory Entertainment. Under this broader title, the company hosts festivals and events, tours, assists with artist management, produces music, and offers consulting services for other brands as well. Now a well-established brand, its location in Williamsburg, Brooklyn, has become an entertainment staple for nightlife and performers. Boasting two large rooms with stages, advanced sound systems, projectors, and the best lighting, Knitting Room is perfect for performances, concerts, comedy nights, film screenings, or parties. Whether you're a local artist or an established artist, Knitting Room Brooklyn has a space for you!
A historic venue in New York City, The Bitter End opened in 1961 on 147 Bleecker Street and was originally a coffee shop. Now, it is also legendary nightclub that gave birth to rock icons such as Joni Mitchell and James Taylor. In 1992, New York City granted The Bitter End the landmark status, and having performed here before stardom, Lady Gaga revisited in 2016 as a part of her bar tour. With a red brick stage backdrop and a 230-person capacity limit, The Bitter End's intimate vibe welcomes all kinds of musicians, aspiring and established, from all kinds of genres. If you want to simultaneously feel at home and be a part of a long line of legendary performers, check out The Bitter End. You won't be disappointed.
The Cutting Room is another iconic music venue. Before moving to its current location on 44 East 32nd Street, its original location on 19 West 24th Street was home to iconic acts such as Gwyneth Paltrow, Lady Gaga, and Norah Jones. Established originally as a rock and roll club by Berklee alumnus Steve Walter, the club continues to host well-known and up-and-coming artists. Adorned funky vintage decor, The Cutting Room manages to elicit feelings of both, nostalgia for past music and optimism for the future, an aura in which performers from Broadway to rock to pop can draw inspiration from. Any artist can thrive in this iconic New York City venue.
What was once a piano store in the Lower East Side at 158 Ludlow Street, has been converted to a two-story bar and music venue called Pianos. Its name comes from the old piano store's sign that was never taken down. While mostly attracting smaller local acts such as Toni Reutter and artists from Brooklyn, Pianos also has a reputation of hosting alternative rock groups and DJs. Comprised of two stages, one in the back room of the main floor and one on the upstairs groovy lounge-like setting, there is always music playing at this renovated piano shop. Pianos is a great, accessible place for up-and-coming artists as they host nighty live performances and the crowd it attracts is mostly younger people with the same musical aspirations. It's a great place to have good, cheaper food, while also meeting and collaborating with both like-minded and musically varied artists.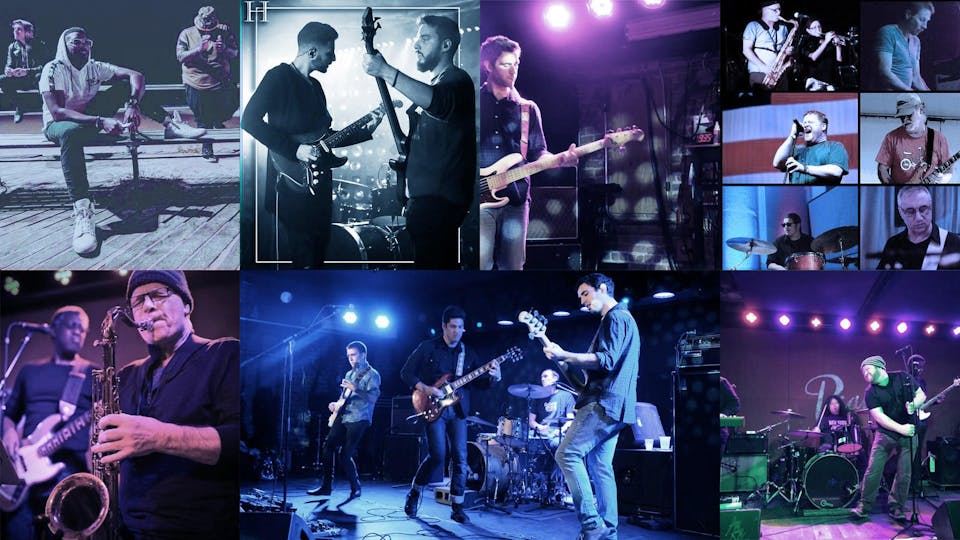 Opening 1951 on Grove Street, The Duplex was home to aspiring comedy acts such as Joan Rivers, and Broadway cabarets act such as Barbra Streisand. Moving to the historic Christopher Street in 1988, The Duplex returned to its Cabaret roots. Due to its proximity to The Stonewall Inn, The Duplex has become a haven for queer people from all over the city and neighboring states to enjoy a happy hour accompanied by pop and musical theater acts. In its first-floor piano bar, the Duplex staff hosts a party every night at 9:00 pm, in which they sing while serving you drinks and food. On Monday and Thursday nights, the Duplex hosts open mic nights in which its patrons and staff can sing. At the Duplex Cabaret, classic off-Broadway performances for both established and up-and-coming artists are held to showcase the best talent New York City has to offer. As it is both a historic and classic venue for the vocally gifted, The Duplex is a place no New Yorker should miss, whether performer or patron.
Prohibition is a cocktail bar and American cafe that hosts live music every night. Since 1996, Prohibition has provided a casual, retro 1920s American vibe to the Upper West Side. Located at 503 Columbus Ave, Prohibition hosts everything from Broadway nights every 3rd Sunday of the month, to open mic nights every Monday at 9 pm. Voted best open mic night in New York City, Prohibition has seen up-and-coming talent as well as already-established artists and attracts performers from every genre. As they host happy hour every day from 4:30 pm to 7:30 pm, Prohibition attracts patrons and performers from all walks of life. You never know who you'll find at Prohibition, so be sure to stop by and be prepared to be surprised!
Nuyorican Poets Cafe
The historic Nuyorican Poets Cafe has been home to innovative poetry, music, hip hop, visual arts, comedy, and theater for the past 40 years. Founded in 1973 by Rutgers University Professor Miguel Algarín as well as co-founders Miguel Piñero, Bimbo Rivas, and Lucky Cienfuegos, the Nuyorican Poets Cafe was a site for artists apart of the Nuyorican Art Movement to present their art. The movement was a cultural and intellectual movement involving poets, writers, musicians, and artists who were of Puerto Rican descent and who lived in or around New York City. The Nuyorican Poets Cafe gave a voice to these artists and helped to propel them into mainstream art. Today, the Cafe continues its tradition of giving a platform to a diverse group of artists as well as facilitating collaboration amongst artists of any kind. Located in the Lower East Side of Manhattan in Alphabet City, the Cafe truly is one of the most culturally integrated sites in the city and is also one of the most highly respected arts organizations in the country as it has one countless arts awards. The Cafe hosts open mics every Monday night at 9 pm and poetry slam competitions on Wednesday and Friday nights. If you want to have a culturally and artistically rich night out any night of the week, the Nuyorican Poets Cafe is the place for you!
Located on the Lower East Side, Parkside Lounge has become a one-stop spot for the best performances and cheap drinks. With the average drink ranging from $5-$7, Parkside attracts patrons and artists who want to have a fun night without having to spend a fortune. For its performers, Parkside's performance space is equipped with a brand new PA system, a large flat-screen TV, two projections screens, a full back line, and its own bar. Although Parkside's performers are mostly bands, it also hosts comedy nights, poetry slams, and open mic nights. Parkside is the perfect spot for anyone looking for cheap drinks and classic Lower East Side talent.
Opening in 1999 in the heart of Williamsburg, Brooklyn, Pete's Candy Store has hosted artists like Norah Jones, Will Oldham, and Beth Orton. The classic Williamsburg "hipster hot spot," hosts grilled cheese, its only food on the menu, cocktails, and draft beer, and is adorned with iconic poker tables in the live music lounge. A Pete's tradition, its venue is free to all performers and books mostly unknown acts and unsigned bands who usually go one to accrue larger acclaim. Pete's hosts open mic nights, bi-weekly spelling bees, and regular stand-up comedy and poetry reading nights. With the back room designed as the interior of a train car and its table-tops laminated with Chinese newspapers, Pete's Candy Store simultaneously combines a downtown-homey feel with a hipster kick. It's a prime bar and live music location for all those who want to finish a night filled with spelling bees or live music with a slice of greasy grilled cheese.
Although these are some of the most well-known performance venues, they are not the "best." Every artist is different and every artist prefers a different venue. What's most important when choosing a venue to perform at, is the comfort of you, the artist, regardless of the reputation of the club. Follow the path of your own artistic journey, and you'll find yourself right where you're meant to be.
Subscribe to the Hub to find out more about cool places like these!